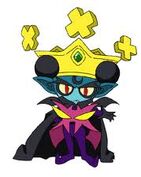 Deji Devil is a hologram who came to the planet Di Gi Charat to make every inhabitant unhappy. He is the main antagonist of Panyo Panyo Di Gi Charat(his only appearance) with his sidekick and apprentice Piyoko as the secondary antagonist. They appear in most episodes and in each of them Deji Devil has an evil plan which is unsuccesful, usually ruined by Dejiko and her rescue team (Gema, Puchiko, Rinna, Mike).
As a hologram he can fly through walls and other objects and can´t touch them.
Appearance
Edit
in progress
Ad blocker interference detected!
Wikia is a free-to-use site that makes money from advertising. We have a modified experience for viewers using ad blockers

Wikia is not accessible if you've made further modifications. Remove the custom ad blocker rule(s) and the page will load as expected.