Piyoko

ぴよこ

Also known as

Pyocola Analogue III (ピョコラ=アナローグⅢ世)

Age

8

Birthday

October 23rd

Home Planet

Analogue

Blood type

AB
Piyoko is an evil 8 year old girl who is the princess of Planet Analogue. Her full name is Pyocola Analogue III.
Appearence
Edit
Piyoko is a panda-girl and has panda ears and a panda tail. In the specials, Leave it to Piyoko, and Nyo, she wears a hat with a panda face on it. She also has a red armband with the letter "B" on it that stands for The Black Gema Gema Dan (Gang). She has blonde hair. She also wears a grey dress. In Panyo Panyo she wears a black dress and a white apron. And she has bat wings and a bow with a panda face. More info
She can shoot a lazer from her mouth called the Upchuck Bazzooka. It is more powerful than the Me Kara Beam. She is obsessed with pandas.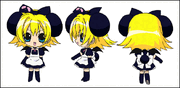 Animeography
Edit